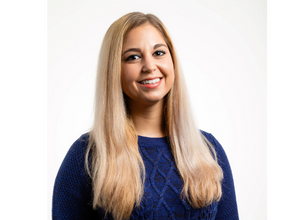 Program Director & Radio Host
Seven Mountains Media
Angela Steco graduated from The Pennsylvania State University in 2013 with a major in broadcast journalism and a minor in theatre. She is currently the host of the "Morning Getaway," the Program Director for B94.5 (WBHV-FM) and the Program Director for Bigfoot Country Legends 98.7 (WLEJ-FM) of 7 Mountains Media in State College, PA.
Born and raised in Lancaster, Pennsylvania, Angela has had a passion for television news since high school, which inspired her path in college.
However, interning at B94.5 in the fall of 2012 piqued her interest in radio. After finishing her internship, she was hired part-time as a producer/co-host of the morning show: B94.5 Morning Zoo. In addition, Angela also worked as studio support for WPSU-TV, and in live-stream production for Penn State Intercollegiate Athletics.
A few months after graduation, Angela received her first full-time opportunity at WTAJ-TV in Altoona, PA as a news photographer, newscast director, and videographer. After exploring the television route, Angela was officially hired full-time with B94.5 and Seven Mountains Media and made that transition in 2015.
Recently, The Morning Getaway with Angela and Jason have won the Pennsylvania Association of Broadcasters Award for Outstanding Local Radio Team two years in a row as well as an award for Best Radio Campaign for Angela and Jason's BGreen recycling initiative with Centre County Recycling and Refuse Authority.
In her spare time, you will see Angela as the emcee for Lady Lions Basketball, a "big" in Big Brothers Big Sisters of Centre County, the 2022 Campaign Chair for the Centre County United Way, and an emcee for several non profit events around town.